The Vankyo Performance V610 projector is an upgraded version of the 600 series. The company has a slightly unusual release pattern, so it may be difficult to figure out which model is the best one to get. At the moment there's a V600, V610, V620, and V630. After reviewing the specifications and information you could feel a bit confused. I'll try to cover all of the details and point out where things differ to help you get the right model for yourself.
If you look at each model in the 600 series you'll see that they all of their own unique design that varies pretty wildly. In fact, you might not even realize that they're so similar just by looking at them. The first V600 has a very box/square design that isn't quite as appealing as the others so it's something to consider. Let's jump right into the "keystone" spec to start things off.
Keystone Correction
When you set up your projector it's very likely that it won't be perfectly parallel to the wall. Maybe you have it low to the floor, or maybe you've installed it up above from your ceiling. Regardless, many projectors have the ability to angle their image to make the video display correctly. The most common rating is 15 degrees, this means that the image can tilt up to 15 degrees so that the video is a nice flush rectangle against the wall or projector screen.
The V610 version actually allows up to 40 degrees of tilting. You'll be able to offset your projector in more places in your room and still get a perfect image displayed. This is very handy if your room layout doesn't allow much flexibility so it's recommended you get a projector with a higher keystone.
Native Resolution
Resolution is an important term thrown around in the world of projectors. The majority being able to upscale the image to 1080p or take in a 1080p source. This can be misleading though, as it's the "native resolution" that determines how sharp your image actually is. Having a higher native resolution gives you a clearer picture so that you can see more detail in games or movies. A lower resolution could appear more blurry comparatively if you're viewing them side by side.
Thankfully, this model is a real native 1080p machine. The best way to see the benefits is with a modern game console or HD Blu-Ray player. These media devices output a full HD image that this projector can take advantage of. Bottom line, you'll get a more authentic movie theater experience with the higher resolution.
Brightness/Contrast
Having enough brightness is one of the biggest factors when deciding on which projector to purchase. If it's too low you won't be able to use it as much when it's daytime. You'll be stuck in the dungeon you call a basement in total darkness. Of course you'll have the best image when it's dark but it's nice to have some flexibility with that.
This projector offers up a rating of 6,000 lux of brightness. This is around a 60% increase over the popular Leisure 430 model as a quick comparison. People seem to really like that one so having even more brightness will provide you with even more versatility. Maybe you'll want to use it outside and display it against your home.
Contrast says how vivid the image displayed is, meaning, how saturated the colors are and how dark the black level is. A higher contrast ratio means the color black will look more black than grey for example. Other colors will "pop" more compared to a projector with a lower rating as well. If you enjoy animations or play video games this could be an important point for you.
Update June 12th 2021: Whatever you do don't miss the newest Amazon offers!
Input Ports
All of this image talk means nothing if you can't plug in the right devices into your projector. You'll be happy to know that the Vankyo V610 has a plethora of options for you to use. It has two HDMI ports for all of your modern devices. This is what you'll use to plug in your media sticks like a Roku, Chromecast, or Fire Stick. This will also be the input choice for your Blu-Ray player and video game console.
But what if you have an old game console from the 90s or VHS tapes you want to watch sometime? Well, you can actually use those as well surprisingly thanks to the composite/AV port. Most people remember these as the red, white, and yellow cables from yesteryear. Maybe you still even have a few of those laying around somewhere.
There are two USB ports and an SD card slot that you can use to play video files from directly. Just plug in your USB flash stick and the projector can play the files right from there. It may not support every encoding and format but it is really nice to have the option. You perhaps won't want to always hook up an additional device every time.
To finish things off you have a standard 3.5mm audio port. This is what you'll use to hookup external speakers which I'll mention in the following section.
Audio
It's nice to have great image quality and connectivity, but audio is another big part of the experience. Some projectors are definitely better than others in this area but many fall short due to the limited internal space. This model comes equipped with dual 5-watt speakers, which actually isn't too bad. It's an upgrade over lower models at least and will fill the room with better sound. I think most people will still want to plug in some sort of external speakers though, either a soundbar or something. That's the only way to truly recreate the movie theater experience in my opinion.
Summary
6000 lux LED brightness
Lamp Life: 50,000 Hrs
5000:1 Contrast Ratio
Native Resolution: 1920×1080 (Full HD)
Usage Distance: 4.6 to 19.68 ft
Image Size: 45″ to 200″
Inputs: HDMIx2, AV/Composite, VGA, AUX, USBx2, SD
Installation: Ceiling mount capable
Keystone Correction: 40+/- degrees (Vertical and Horizontal)
Includes: Remote, carrying case, AV cable, HDMI cable, fix screws
Warranty: Quote from the official description states "Three-year 100% money-back guarantee", but the 600/620/630 models in comparison all state 3-month returns and 3-year free repairs. It's likely the latter with the 610 model as well. Not sure why Vankyo wrote it like that for this model.
Conclusion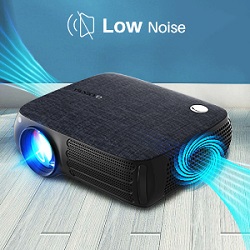 The Vankyo Performance V610 projector has a ton of nice features and performance to mention. When you compare it to the V600 model, this newer version has a much higher keystone correction and also a much more pleasing design. The style has really been improved and the boxiness is no more. You get a nice native 1080p picture, decent speakers, and pretty low fan noise. There are 3 fans inside that help keep everything cool and running smoothly while also being relatively quiet.
Another big point to mention is that there's a 3-year warranty on the projector and, if it's the same as the 600/620/630 models, a 3-month 100% money back guarantee. That's a bit crazy to me and shows me that the company is serious about providing a quality product that's going to last. If you were already considering the V600 I would recommend getting this one if you want a better design and higher keystone functionality. They're very similar in many other ways and if you don't care about those factors just go ahead and get the V600. Either way I feel like you'd be very pleased with the output of the projector. Thanks for reading and hopefully you'll soon be joining the projector world.
Vankyo Performance V610 Projector Prices
Go ahead and click through the links below to find the newest/current offers. There's a chance the prices may change, plus the Vankyo company sometimes offers coupon on their products. I'd absolutely recommend adding the projector to your cart to view a total price.
Click Here Vankyo Performance V610 Projector Offers
"As an Amazon Associate I earn from qualifying purchases. This does not influence our content and helps keep the site running."